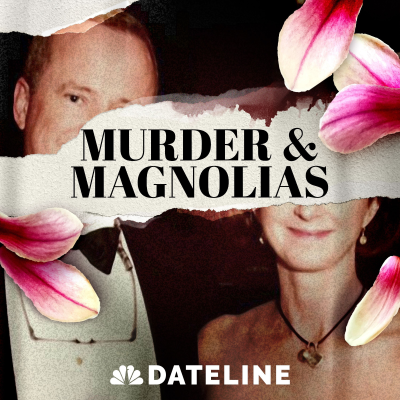 They were the very picture of a perfect couple in the land of Spanish moss and sweet magnolias. But when a hit man targets one of them, a story of betrayal and murderous intent unfolds. In Dateline's latest podcast, Keith Morrison takes us to the Low Country of South Carolina to tell the twisted tale. Follow now to get the latest episodes of Murder & Magnolias each week completely free, or subscribe to Dateline Premium on Apple Podcasts for early access and ad-free listening: apple.co/datelinepremium 
Andere exklusive Podcasts
Die neuesten Episoden
Dateline presents: Mortal Sin
Hey, Dateline fans! As a bonus, we're giving you a special preview clip of our new podcast series Mortal Sin. In Dateline's latest original podcast series, Josh Mankiewicz tells a twisted tale about a seemingly perfect couple, sex, lies, religion…and murder.  If you like what you hear, you can listen to the first 2 episodes now for free, or subscribe to Dateline Premium on Apple Podcasts to get access to new episodes 1 week early. Subscribers can also listen to all Dateline podcasts ad-free: https://link.chtbl.com/mtlsin_fdlw [https://link.chtbl.com/mtlsin_fdlw]
Judgment Day
The jury renders its verdicts. Afterwards, a remarkable moment of forgiveness takes place.
Deal or No Deal?
A hit man makes a choice, and the trial gets underway.
Der neue Look und die "Trailer" sind euch verdammt gut gelungen! Die bisher beste Version eurer App 🎉 Und ich bin schon von Anfang an dabei 😉 Weiter so 👍
Eine wahnsinnig große, vielfältige Auswahl toller Hörbücher, Autobiographien und lustiger Reisegeschichten. Ein absolutes Muss auf der Arbeit und in unserem Urlaub am Strand nicht wegzudenken... für uns eine feine Bereicherung
Spannende Hörspiele und gute Podcasts aus Eigenproduktion, sowie große Auswahl. Die App ist übersichtlich und gut gestaltet. Der Preis ist fair.
Nutze Podimo überall
Höre Podimo auf deinem Smartphone, Tablet, Computer oder im Auto!
Ein ganzes Universum für Unterhaltung für die Ohren
Tausende Hörbücher und exklusive Podcasts ab 4,99 € / Monat
Ohne Werbung
Verschwende keine Zeit mit Werbeunterbrechungen, wenn du bei Podimo hörst