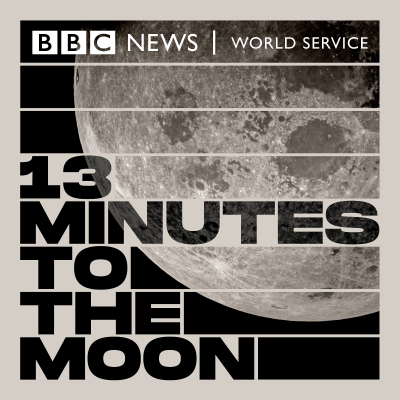 13 Minutes to the Moon
Podcast von BBC World Service
Epic stories of Nasa's missions to the Moon. Season 1: the first Moon landing, Apollo 11. Season 2: the near disaster of Apollo 13. Presenter: Kevin Fong. Theme music: Hans Zimmer 
Die neuesten Episoden
Bonus: The Lazarus Heist Episode 1
Introducing our new original podcast. Here's episode 1: Hacking Hollywood. A movie, Kim Jong-un and a devastating cyber-attack. The story of the Sony hack. How the Lazarus Group hackers caused mayhem. And this is just the beginning…Search for The Lazarus Heist wherever you get your podcasts. #LazarusHeist
Introducing The Bomb
Emily's grandad worked on the bomb that fell on Hiroshima. Could another man – Leo Szilard - have stopped it? This is the new series from the BBC World Service – search for The Bomb wherever you get your podcasts.
S2 Ep.07 Resurrection
"I still have nightmares about this." Can the crew survive the dangers of re-entering the Earth's atmosphere? An error could see them either incinerated or becoming lost forever in deep space. #13MinutestotheMoon For more Apollo films and photos: www.bbcworldservice.com/13minutes Presented by Kevin Fong. Archive: Nasa Starring Jim Lovell John Aaron Dave Reed Hal Loden Jerry Bostick Jim Kelly Fred Haise Charlie Duke Joe Kerwin Gene Kranz, courtesy of the Johnson Space Center Oral History Project Chuck Deiterich Marilyn Lovell Gerry Griffin Written by Kevin Fong and Andrew Luck-Baker Theme music by Hans Zimmer and Christian Lundberg for Bleeding Fingers Music BBC Radio Science Unit for the BBC World Service
1 h 0 min
-
07. Juni 2020
Der neue Look und die "Trailer" sind euch verdammt gut gelungen! Die bisher beste Version eurer App 🎉 Und ich bin schon von Anfang an dabei 😉 Weiter so 👍
Eine wahnsinnig große, vielfältige Auswahl toller Hörbücher, Autobiographien und lustiger Reisegeschichten. Ein absolutes Muss auf der Arbeit und in unserem Urlaub am Strand nicht wegzudenken... für uns eine feine Bereicherung
Spannende Hörspiele und gute Podcasts aus Eigenproduktion, sowie große Auswahl. Die App ist übersichtlich und gut gestaltet. Der Preis ist fair.
Nutze Podimo überall
Höre Podimo auf deinem Smartphone, Tablet, Computer oder im Auto!
Ein ganzes Universum für Unterhaltung für die Ohren
Tausende Hörbücher und exklusive Podcasts ab 4,99 € / Monat
Ohne Werbung
Verschwende keine Zeit mit Werbeunterbrechungen, wenn du bei Podimo hörst