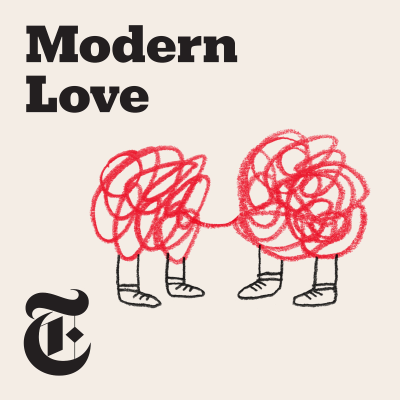 Modern Love
Podcast von The New York Times
For 18 years, the Modern Love column has given New York Times readers a glimpse into the complicated love lives of real people. Since its start, the column has evolved into a TV show, three books and a podcast. Each week, host Anna Martin brings you stories and conversations about love in all its glorious permutations, dumb pitfalls and life-changing moments. New episodes every Wednesday. Listen to this podcast in New York Times Audio, our new iOS app for news subscribers. Download now at nytimes.com/audioapp 
Die neuesten Episoden
I Needed David Schwimmer's Help
Samantha Joseph's childhood was scattered with golden trips to California to visit her Aunt Gail. Aunt Gail was the cool aunt. She worked in Hollywood and befriended actors like Robin Williams, Mayim Bialik and the cast of "Friends." And yet she was still relatable (she'd get on the floor and play like a kid). One day, those trips to California stopped: Aunt Gail no longer wanted to see Samantha's family. Samantha was devastated, and several years later, she was devastated again by the news that Aunt Gail had died by suicide. Today, Samantha shares her search for answers following her aunt's death and how a conversation with David Schwimmer helped her to heal. Today's Story: * "I Had to Stop Asking Why [https://www.nytimes.com/2023/04/28/style/gail-joseph-friends-david-schwimmer-modern-love.html?campaign_id=138&emc=edit_ll_20230428&instance_id=91327&nl=love-letter®i_id=70041191&segment_id=131638&te=1&user_id=cdac282ec6d9570a8fa4fad77207864a]" by Samantha Joseph
Essay Read: I Had To Stop Asking Why
Samantha Joseph reads her Modern Love essay, "I Had to Stop Asking Why." You can listen to Anna's interview with Samantha in the "Modern Love" podcast feed - the episode is called "I Needed David Schwimmer's Help:. You can also read Samantha's essay on the New York Times website here. [https://www.nytimes.com/2023/04/28/style/gail-joseph-friends-david-schwimmer-modern-love.html?campaign_id=138&emc=edit_ll_20230428&instance_id=91327&nl=love-letter®i_id=70041191&segment_id=131638&te=1&user_id=cdac282ec6d9570a8fa4fad77207864a]
Essay Read: How I Lost the Fiancé But Won the Honeymoon
Nell Stephens reads her Modern Love essay, "How I Lost the Financé but Won the Honeymoon." You can listen to Anna's interview with Nell in the "Modern Love" podcast feed. You can also read Nell's  essay on the New York Times website here [https://www.nytimes.com/2018/08/03/style/modern-love-how-i-lost-the-fiance-but-won-the-honeymoon.html].
Der neue Look und die "Trailer" sind euch verdammt gut gelungen! Die bisher beste Version eurer App 🎉 Und ich bin schon von Anfang an dabei 😉 Weiter so 👍
Eine wahnsinnig große, vielfältige Auswahl toller Hörbücher, Autobiographien und lustiger Reisegeschichten. Ein absolutes Muss auf der Arbeit und in unserem Urlaub am Strand nicht wegzudenken... für uns eine feine Bereicherung
Spannende Hörspiele und gute Podcasts aus Eigenproduktion, sowie große Auswahl. Die App ist übersichtlich und gut gestaltet. Der Preis ist fair.
Nutze Podimo überall
Höre Podimo auf deinem Smartphone, Tablet, Computer oder im Auto!
Ein ganzes Universum für Unterhaltung für die Ohren
Tausende Hörbücher und exklusive Podcasts ab 4,99 € / Monat
Ohne Werbung
Verschwende keine Zeit mit Werbeunterbrechungen, wenn du bei Podimo hörst