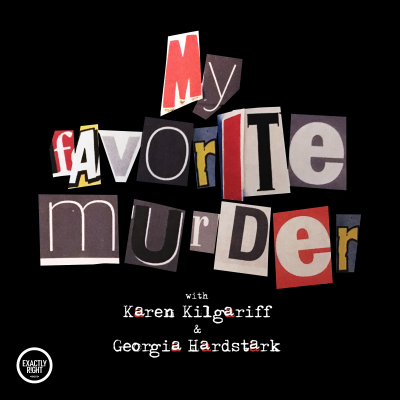 My Favorite Murder with Karen Kilgariff and Georgia Hardstark
Podcast von Exactly Right Media – the original true crime comedy network
My Favorite Murder is a true crime comedy podcast hosted by Karen Kilgariff and Georgia Hardstark. Each week, Karen and Georgia share compelling true crimes and hometown stories from friends and listeners. Since MFM launched in January of 2016, Karen and Georgia have shared their lifelong interest in true crime and have covered stories of infamous serial killers like the Night Stalker, mysterious cold cases, captivating cults, incredible survivor stories and important events from history like the Tulsa race massacre of 1921.  My Favorite Murder is part of the Exactly Right podcast network that provides a platform for bold, creative voices to bring to life provocative, entertaining and relatable stories for audiences everywhere. The Exactly Right roster of podcasts covers a variety of topics including historic true crime, comedic interviews and news, science, pop culture and more. Podcasts on the network include Buried Bones with Kate Winkler Dawson and Paul Holes, That's Messed Up: An SVU Podcast, This Podcast Will Kill You, Bananas and more. 
Die neuesten Episoden
MFM Minisode 350
This week's hometowns include babysitting at a bowling alley and an accidental grave robbing. See Privacy Policy at https://art19.com/privacy [https://art19.com/privacy] and California Privacy Notice at https://art19.com/privacy#do-not-sell-my-info [https://art19.com/privacy#do-not-sell-my-info].
394 - Shut the House Down
On today's episode, Karen tells Georgia the story of "Mommy Doomsday," Lori Vallow Daybell. For our sources and show notes, visitwww.myfavoritemurder.com/episodes [http://www.myfavoritemurder.com/episodes]. See Privacy Policy at https://art19.com/privacy [https://art19.com/privacy] and California Privacy Notice at https://art19.com/privacy#do-not-sell-my-info [https://art19.com/privacy#do-not-sell-my-info].
1 h 2 min
-
21. Sept. 2023
MFM Minisode 349
This week's hometowns include a murder house for sale and a meet cute between neighbors. See Privacy Policy at https://art19.com/privacy [https://art19.com/privacy] and California Privacy Notice at https://art19.com/privacy#do-not-sell-my-info [https://art19.com/privacy#do-not-sell-my-info].
Der neue Look und die "Trailer" sind euch verdammt gut gelungen! Die bisher beste Version eurer App 🎉 Und ich bin schon von Anfang an dabei 😉 Weiter so 👍
Eine wahnsinnig große, vielfältige Auswahl toller Hörbücher, Autobiographien und lustiger Reisegeschichten. Ein absolutes Muss auf der Arbeit und in unserem Urlaub am Strand nicht wegzudenken... für uns eine feine Bereicherung
Spannende Hörspiele und gute Podcasts aus Eigenproduktion, sowie große Auswahl. Die App ist übersichtlich und gut gestaltet. Der Preis ist fair.
Nutze Podimo überall
Höre Podimo auf deinem Smartphone, Tablet, Computer oder im Auto!
Ein ganzes Universum für Unterhaltung für die Ohren
Tausende Hörbücher und exklusive Podcasts ab 4,99 € / Monat
Ohne Werbung
Verschwende keine Zeit mit Werbeunterbrechungen, wenn du bei Podimo hörst