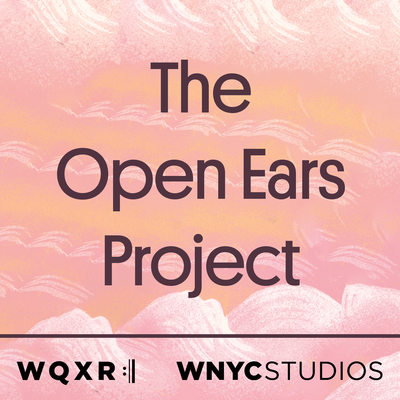 The Open Ears Project
Podcast von WQXR & WNYC Studios
Part mix tape, part sonic love-letter, the Open Ears Project is a daily podcast where people share the classical track that means the most to them. Each episode offers a soulful glimpse into other human lives, helping us to hear this music—and each other—differently. The Open Ears Project is produced by WQXR and WNYC Studios, home of great podcasts including Radiolab, Death, Sex & Money, On the Media, Nancy, and Here's the Thing with Alec Baldwin. 
Die neuesten Episoden
BONUS: Tom Hiddleston on The Nutcracker
Actor Tom Hiddleston reminisces about his childhood love of Tchaikovsky's ballet The Nutcracker and reveals that he still turns to the Russian Dance whenever he needs a shot of vitality in his day.
30. Esther Perel on Peace
For the final episode in our opening season of The Open Ears Project, relationship therapistEsther Perel talks about the first time she heard Fauré'sRequiemas a young woman and how it seemed to "understand" an inexpressible sadness she was carrying inside her. She describes with great tenderness the way music connects her to her mother, a survivor of the Holocaust, and how this piece transports her to something akin to a religious experience. Keep listening after the episode to hear the full track.
29. Krystal Hawes on Imperfection
Project CoordinatorKrystal Hawes explores the perfect imperfection of Maurice Ravel's Pavane pour une infante défunte. Keep listening after the episode to hear the full track.
Der neue Look und die "Trailer" sind euch verdammt gut gelungen! Die bisher beste Version eurer App 🎉 Und ich bin schon von Anfang an dabei 😉 Weiter so 👍
Eine wahnsinnig große, vielfältige Auswahl toller Hörbücher, Autobiographien und lustiger Reisegeschichten. Ein absolutes Muss auf der Arbeit und in unserem Urlaub am Strand nicht wegzudenken... für uns eine feine Bereicherung
Spannende Hörspiele und gute Podcasts aus Eigenproduktion, sowie große Auswahl. Die App ist übersichtlich und gut gestaltet. Der Preis ist fair.
Nutze Podimo überall
Höre Podimo auf deinem Smartphone, Tablet, Computer oder im Auto!
Ein ganzes Universum für Unterhaltung für die Ohren
Tausende Hörbücher und exklusive Podcasts ab 4,99 € / Monat
Ohne Werbung
Verschwende keine Zeit mit Werbeunterbrechungen, wenn du bei Podimo hörst