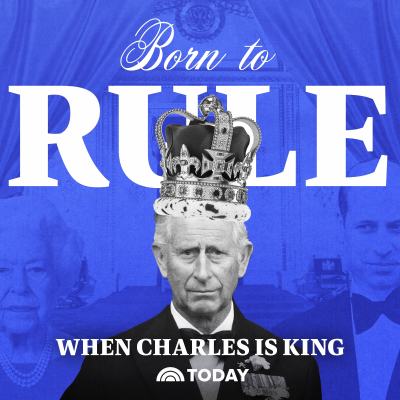 Born to Rule: When Charles is King
Queen Elizabeth II died on September 8th at the age of 96 years old, months after her Platinum Jubilee, her 70th year as the Queen of the United Kingdom. As the world remembers the longest-reigning monarch, her eldest son Prince Charles is now KING Charles III. It's the moment he was born destined for – and at 73, he's been waiting a long time. As one era closes, another one begins. Can Prince Charles fill his mother's shoes? Will the people accept him as king? Is there even a place for monarchy in our modern world? In Born to Rule, NBC's Keir Simmons talks to journalists and royal insiders who've followed Prince Charles for decades to help us understand this man who is now king. 
Die neuesten Episoden
Dateline presents: Murder in Apartment 12
As a bonus for you, we're sharing the trailer for Murder in Apartment 12, an all-new original podcast series from Dateline and Keith Morrison. The story starts with Nona Dirksmeyer, a young beauty queen. Smart and talented, her future is bright. But just days before her 20th birthday, Nona is murdered in her apartment. Police quickly decide their primary suspect is the young man who found her – her boyfriend, Kevin. After all, his bloody palm print is at the crime scene. Case closed? Not by a long shot. In Dateline's latest original podcast series, Keith Morrison tells the story of three trials, two suspects, and one small town where things are not always what they seem. Listen to the first 2 episodes now for free, or subscribe to Dateline Premium on Apple Podcasts. Subscribers get early access to new episodes and can listen to all Dateline podcasts ad-free: https://link.chtbl.com/miat_fdlw [https://link.chtbl.com/miat_fdlw]
Prince Harry's Tell-All Memoir and the Future of the Crown
A lot has changed since the last episode of Born to Rule was released. After Queen Elizabeth's death on September 8, 2022, Prince Charles became King Charles III and thereby fulfilled his destiny. But some things haven't changed – like the relationship between Prince Harry and the rest of the British royal family. Since excerpts from Prince Harry's much anticipated memoir, Spare, became public, the book has made headlines around the world. We're taking a look at the impact of this bombshell book. Keir Simmons sits down with Katie Nicholl, author of The New Royals and royal editor at Vanity Fair, and journalist and royal commentator, Afua Hagan, for a candid conversation about the impact this memoir could have on the reign of King Charles III.
NBC News Special Report: King Charles III Addresses Nation for the First Time After Death of Queen Elizabeth II
King Charles III pays tribute to his mother, Queen Elizabeth II in a televised speech to the nation.  TODAY's Savannah Guthrie reports LIVE from London.
Der neue Look und die "Trailer" sind euch verdammt gut gelungen! Die bisher beste Version eurer App 🎉 Und ich bin schon von Anfang an dabei 😉 Weiter so 👍
Eine wahnsinnig große, vielfältige Auswahl toller Hörbücher, Autobiographien und lustiger Reisegeschichten. Ein absolutes Muss auf der Arbeit und in unserem Urlaub am Strand nicht wegzudenken... für uns eine feine Bereicherung
Spannende Hörspiele und gute Podcasts aus Eigenproduktion, sowie große Auswahl. Die App ist übersichtlich und gut gestaltet. Der Preis ist fair.
Nutze Podimo überall
Höre Podimo auf deinem Smartphone, Tablet, Computer oder im Auto!
Ein ganzes Universum für Unterhaltung für die Ohren
Tausende Hörbücher und exklusive Podcasts ab 4,99 € / Monat
Ohne Werbung
Verschwende keine Zeit mit Werbeunterbrechungen, wenn du bei Podimo hörst