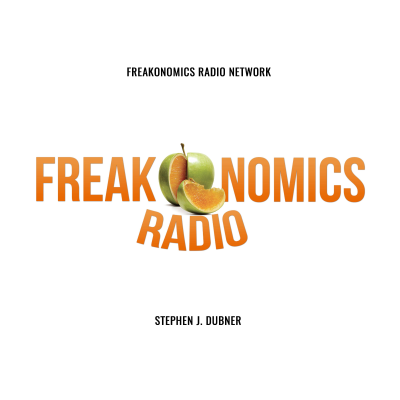 Freakonomics Radio
Podcast von Freakonomics Radio + Stitcher
Freakonomics co-author Stephen J. Dubner uncovers the hidden side of everything. Why is it safer to fly in an airplane than drive a car? How do we decide whom to marry? Why is the media so full of bad news? Also: things you never knew you wanted to know about wolves, bananas, pollution, search engines, and the quirks of human behavior. Join the Freakonomics Radio Plus membership program for weekly member-only episodes of Freakonomics Radio. You'll also get every show in our network without ads. To sign up, visit our show page on Apple Podcasts or go to freakonomics.com/plus. 
Die neuesten Episoden
558. The Facts Are In: Two Parents Are Better Than One
In her new book The Two-Parent Privilege, the economist Melissa Kearney says it's time for liberals to face the facts: U.S. marriage rates have plummeted but the babies keep coming, and the U.S. now leads the world in single-parent households. Plus: our friends at Atlas Obscura explore just how many parents a kid can have.
1 h 2 min
-
21. Sept. 2023
557. When Is a Superstar Just Another Employee?
The union that represents N.F.L. players conducted their first-ever survey of workplace conditions, and issued a report card to all 32 teams. What did the survey reveal? Clogged showers, rats in the locker room — and some helpful insights for those of us who don't play pro football. For show notes, visit freakonomics.com/podcast/when-is-a-superstar-just-another-employee/ [https://freakonomics.com/podcast/when-is-a-superstar-just-another-employee/]
1 h 0 min
-
14. Sept. 2023
556. A.I. Is Changing Everything. Does That Include You?
For all the speculation about the future, A.I. tools can be useful right now. Adam Davidson discovers what they can help us do, how we can get the most from them — and why the things that make them helpful also make them dangerous. (Part 3 of "How to Think About A.I." [https://freakonomics.com/podcast-tag/how-to-think-about-a-i/])
Der neue Look und die "Trailer" sind euch verdammt gut gelungen! Die bisher beste Version eurer App 🎉 Und ich bin schon von Anfang an dabei 😉 Weiter so 👍
Eine wahnsinnig große, vielfältige Auswahl toller Hörbücher, Autobiographien und lustiger Reisegeschichten. Ein absolutes Muss auf der Arbeit und in unserem Urlaub am Strand nicht wegzudenken... für uns eine feine Bereicherung
Spannende Hörspiele und gute Podcasts aus Eigenproduktion, sowie große Auswahl. Die App ist übersichtlich und gut gestaltet. Der Preis ist fair.
Nutze Podimo überall
Höre Podimo auf deinem Smartphone, Tablet, Computer oder im Auto!
Ein ganzes Universum für Unterhaltung für die Ohren
Tausende Hörbücher und exklusive Podcasts ab 4,99 € / Monat
Ohne Werbung
Verschwende keine Zeit mit Werbeunterbrechungen, wenn du bei Podimo hörst