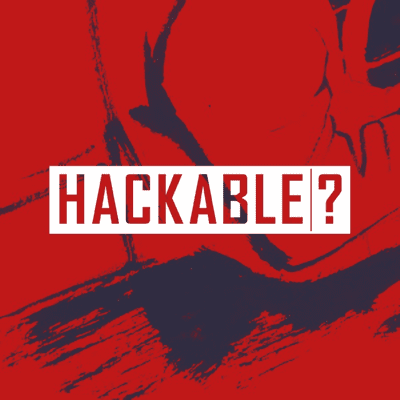 We see lots of movies and TV shows where hackers can infiltrate our lives with just a few keystrokes. But is it real? We're here to find out. Malicious cat photos, sketchy Wi-Fi networks, rogue rentals, all-knowing webcams - those are just a few topics tackled in Hackable?, where we let our hackers shed light on just how secure we really are. Winner of Best Branded Podcast - 10th Annual Shorty Awards. 
Andere exklusive Podcasts
Die neuesten Episoden
Gone Phishin'
Phishing scams that disguise malware or malicious intent in messages are extremely common. Just how do hackers keep reeling in victims? On this episode, we learn exactly how phishing works from the hacker's perspective, and cast a phishing line of our own.
Porch Piracy
The more people shop online, the more thieves swipe packages. Are smart padlocks a secure solution? Or can they be cracked open by hackers? On this episode, Geoff joins the McAfee Advanced Threat Research team for some technical porch piracy.
Introducing: Malicious Life
This week, we're bringing you a story from our friends over at Malicious Life - a podcast about the history of cybersecurity. If movies have taught us anything, it's that if you want to rob a bank, you dress up as the cleaning crew. The people behind the huge hack of Target in 2013 must have seen one action film too many, because when they decided to hack one of the biggest retailers in the world, they did it via the HVAC maintenance systems' computers.
Der neue Look und die "Trailer" sind euch verdammt gut gelungen! Die bisher beste Version eurer App 🎉 Und ich bin schon von Anfang an dabei 😉 Weiter so 👍
Eine wahnsinnig große, vielfältige Auswahl toller Hörbücher, Autobiographien und lustiger Reisegeschichten. Ein absolutes Muss auf der Arbeit und in unserem Urlaub am Strand nicht wegzudenken... für uns eine feine Bereicherung
Spannende Hörspiele und gute Podcasts aus Eigenproduktion, sowie große Auswahl. Die App ist übersichtlich und gut gestaltet. Der Preis ist fair.
Nutze Podimo überall
Höre Podimo auf deinem Smartphone, Tablet, Computer oder im Auto!
Ein ganzes Universum für Unterhaltung für die Ohren
Tausende Hörbücher und exklusive Podcasts ab 4,99 € / Monat
Ohne Werbung
Verschwende keine Zeit mit Werbeunterbrechungen, wenn du bei Podimo hörst