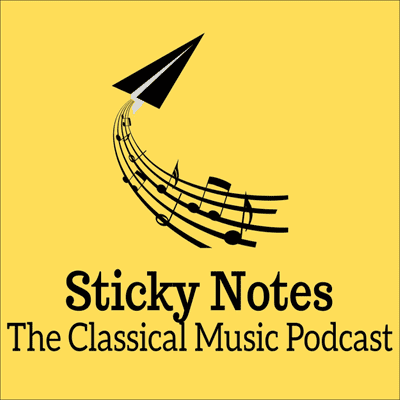 Sticky Notes: The Classical Music Podcast
Podcast von Joshua Weilerstein
Sticky Notes is a classical music podcast for everyone, whether you are just getting interested in classical music for the first time, or if you've been listening to it and loving it all your life. Interviews with great artists, in depth looks at pieces in the repertoire, and both basic and deep dives into every era of music. Classical music is absolutely for everyone, so let's start listening! Note - Seasons 1-5 will be returning over the next year. They have been taken down in order to be re-recorded in improved sound quality! 
Die neuesten Episoden
The Music of World War II and the Holocaust with "Time's Echo" writer Jeremy Eichler (Part 1)
I had the great pleasure and honor this week(and next week) to speak with the author of the new book Time's Echo Jeremy Eichler. The book chronicles four composers and their varied reactions to World War II and the Holocaust, including Schoenberg, Strauss, Shostakovich, and Britten. This week we talked about the historical symbiosis between Germans and German Jews, the concept of Bildung, a central idea in German culture throughout the 19th and early 20th century, Mendelssohn's role in creating a sense of "German" music, Schoenberg's remarkable prescience about what lay in the future after the Nazis took power in Germany, his remarkable Survivor from Warsaw, the first major musical memorial to the Holocaust, and the almost hard to believe it's so wild story of the premiere of the piece. This is truly one of my favorite books about classical music that I've ever read, so I highly recommend picking it up. I hope you enjoy this interview as much as I did!
Mahler Symphony No. 4, Part 2
If you haven't listened to Part 1 of this episode about Mahler's 4th symphony, I highly recommend doing that, as every movement of this symphony builds to the "Heavenly Life" of the last movement. On Part 2, we'll be going through the 3rd and 4th movements. Mahler told his friend Natalie Bauer-Lechner that the 3rd movement of the symphony was created by "a vision of a tombstone on which was carved an image of the departed, with folded arms, in eternal sleep." As you can imagine based on that description, there is an unearthly beauty to the slow movement of Mahler's 4th. Much like the Heiliger Dankgesang movement from Beethoven's Op. 132 string quartet I talked about a couple of weeks ago, we often get the feeling in the slow movement of Mahler's 4th that we are listening to music that is coming to us from the other side. As the slow movement comes to its end, we are introduced to the last movement, a sublime and peaceful song Mahler entitled "The Heavenly Life." This is a symphony that leaves you in a state like no other in the musical world, and so today we'll go through that slow movement, investigating just how Mahler makes it so extraordinary, and then we'll talk about the last movement, a movement that has divided listeners from the beginning due to its unusual text. I can't promise we'll find all the answers, but along the way, we'll get to listen to some truly divine music. We'll also get to hear Mahler himself playing - that's right, Mahler himself! Join us!
Mahler Symphony No. 4, Part 1
After the truly heavenly slow movement of Mahler's 4th symphony, a soprano emerges and sings a song literally called "The Heavenly Life." It is a symphonic ending like no other, one that leaves the listener peaceful and contented after taking a long(but not as long as usual) and winding journey with Gustav Mahler and his 4th symphony. The 4th symphony is a symphony of moments, like the famous sleigh bells that begin the piece, and a symphony of long, massive, and momentous arcs, like in the timeless 3rd movement, which might be my single favorite movement of any Mahler symphony. But this symphony, so renowned for its contentedness and beauty also features complicated emotions, drama that clouds the blue skies, and a dark side that we never truly escape, perhaps not until the very end of the symphony. Mahler said that his symphony was "divinely serene, yet profoundly sad, it can only have you laughing and crying at the same time." What a perfect way to define Mahler's music, always full of dualisms, contradictions, ironies, and complexities, but that's what makes Mahler's music so irresistible; its ability to plumb the depths of not only the human spirit but also its psyche. Mahler's music is truly musical therapy, and if there's one of his symphonies that really exemplifies that, it's this fourth symphony. With all that said, this is also his simplest and most easily grasped symphony in terms of its purely musical content. I've gotten a lot of emails in the past from folks who are skeptical or confused about Mahler and his appeal, so if you're one of those people, than this symphony MIGHT just be the one that changes your mind. As always with Mahler, his symphonies get multi-part episodes, so this week I'll go through the first two movements of the symphony, from the sleigh bells and brilliant sunshine of the first movement, to the devilish and ironic second movement. We'll talk all about Mahler's brilliant orchestration, his use(and deliberate misuse) of form, the pure beauty of this music, and the oddly negative reception that this symphony got when it was first performed. Join us!
Der neue Look und die "Trailer" sind euch verdammt gut gelungen! Die bisher beste Version eurer App 🎉 Und ich bin schon von Anfang an dabei 😉 Weiter so 👍
Eine wahnsinnig große, vielfältige Auswahl toller Hörbücher, Autobiographien und lustiger Reisegeschichten. Ein absolutes Muss auf der Arbeit und in unserem Urlaub am Strand nicht wegzudenken... für uns eine feine Bereicherung
Spannende Hörspiele und gute Podcasts aus Eigenproduktion, sowie große Auswahl. Die App ist übersichtlich und gut gestaltet. Der Preis ist fair.
Nutze Podimo überall
Höre Podimo auf deinem Smartphone, Tablet, Computer oder im Auto!
Ein ganzes Universum für Unterhaltung für die Ohren
Tausende Hörbücher und exklusive Podcasts ab 4,99 € / Monat
Ohne Werbung
Verschwende keine Zeit mit Werbeunterbrechungen, wenn du bei Podimo hörst