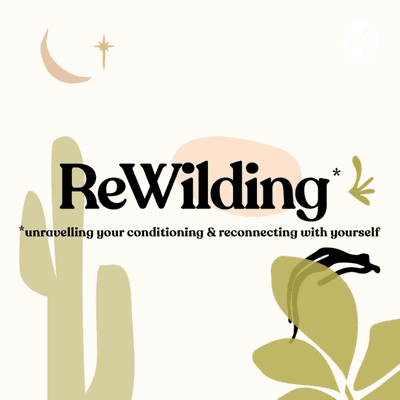 ReWilding
Podcast von Ella Grace Denton
Unravelling your conditioning & reconnecting with yourself 
Die neuesten Episoden
22. Living With Alopecia: Discovering My Root Cause & Developing Deeper Self Acceptance + My Advice, Tips & Tricks!
This episode has been SUCH a long time coming.. almost 3 years in fact! Auto-Immune Diseases are super prevalent in todays society and deeply misunderstood. Here I share my 3 year journey of trying to work out the ROOT CAUSE of my Alopecia Areata, although I am not 100% finished with this exploration I have come SO FAR and hope this Episode provides answers for those struggling.
Discovering My Identity Without A Womb w/ Tasha Bishops
Tash was born with Mayer-Rokitansky-Kuster-Hauser syndrome. Affecting 1 in 5,000 women, MRKH means she was born without a womb.  In this episode she shares her incredible story with us, and reminds us that everyone deserves to feel beautiful, powerful, and respected every single day – with absolutely no qualifiers. Infertility, gender, sexual orientation, background, money, job, mental health or any other kind of issues are things that effect each of us differently, daily. Find Tasha @wearethepantsproject
1 h 5 min
-
15. Okt. 2020
The Domino Effects Of Bravery: Upgrading Your Frequency
I come to you today with a solo episode sharing my experiences of upgrading my own frequency to the point wherein my life aligns fully with my heart. This is a journey for everybody, and never ends but I hope this episode gives you the tools you need to let in those upgrades!
Der neue Look und die "Trailer" sind euch verdammt gut gelungen! Die bisher beste Version eurer App 🎉 Und ich bin schon von Anfang an dabei 😉 Weiter so 👍
Eine wahnsinnig große, vielfältige Auswahl toller Hörbücher, Autobiographien und lustiger Reisegeschichten. Ein absolutes Muss auf der Arbeit und in unserem Urlaub am Strand nicht wegzudenken... für uns eine feine Bereicherung
Spannende Hörspiele und gute Podcasts aus Eigenproduktion, sowie große Auswahl. Die App ist übersichtlich und gut gestaltet. Der Preis ist fair.
Nutze Podimo überall
Höre Podimo auf deinem Smartphone, Tablet, Computer oder im Auto!
Ein ganzes Universum für Unterhaltung für die Ohren
Tausende Hörbücher und exklusive Podcasts ab 4,99 € / Monat
Ohne Werbung
Verschwende keine Zeit mit Werbeunterbrechungen, wenn du bei Podimo hörst